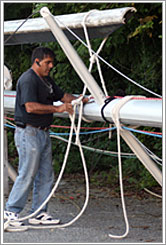 Rigging and Mast Work–
Tidewater Marine Services can provide for the inspection, repair, or replacement of all of your yacht's rigging requirements. Our lifetime experience and knowledge of all types of furling systems (headsail, in-the-mast, and boom-design) allows us to expertly diagnose problems and offer intelligent repair solutions and improvements.
Our professional installations offer the yacht owner peace of mind and the assurance that the system or improved sailing hardware has the loading capabilities to perform the task intended and will offer a long trouble-free service life. We at Tidewater Marine strive to provide the best solution and cost effective options concerning the investment made in your boat. Please consult us for any of your rigging requirements.
Rigging services offered:
- rigging inspections and off-shore insurance certificates
- mast building and/or repair
- sail handling systems
- steering systems
- standing and running rigging
- mast painting

Cruising Yacht Systems –
Tidewater Marine has designed and installed a wide range of electrical, climate control, electronic navigational systems, auto-pilot (both electric and wind-steer), and refrigeration systems for cruising yachts up to 125 feet. We can design and install custom electrical supply and charging systems for the demands of your boat, from coastal and bay cruisers to off-shore passage-makers.
System installations and repairs:
- high output alternators
- inverters
- electrical system monitors
- generators
- solar powered charging systems
- wind generators
- enlarged battery banks
- electrical panel upgrades
- water making capabilities

For all of your boat maintenance needs and requirements, Tidewater Marine has intelligent solutions and competitive pricing. Please inquire with us for all of your projects, whether you need a quick haul-out to paint your bottom, Awlgrip your topsides, or a complete re-power of your boat. We will be more than happy to provide a quick and detailed quote, and accommodate your busy schedule. We also strive to provide on-time delivery for the quoted price without headaches or hassles.