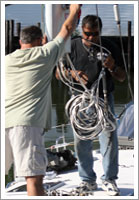 Tidewater Marine Services
We service all boatyards in the Hampton Roads area.
Tidewater Marine Services Brings over 60 years of combined experience to your sail, trawler or power yacht. We provide service to all of the southern Chesapeake Bay and Hampton roads areas. We can offer professional and intelligent solutions to repair or improve all of the working systems on your yacht. Tidewater Marine has performed countless rigging inspections and repairs for the Caribbean 1500 and Bermuda cruising rallies. We bring to your vessel a complete working knowledge and understanding of all of the complex systems found in today's offshore capable yachts.
The staff atTidewater has also logged thousands of miles of Blue water sailing and deliveries around the world. This experience enhances our ability to properly diagnose and repair any problem your boat or its systems may have.